My good friend Liza Sokolovskaya and I are co-curating a group exhibition of Montreal and Brooklyn artists at my studio in the Belgo Building on from April 13 to May 6. The vernissage is 5-8 on April 13, all are welcome. The gallery will be open Tuesday to Saturday, 12-6pm. Facebook event: https://fb.me/e/ytv5UaeV
Many of the artists will be present. The participating artists are as follows
Alex Coma
Ben Williamson
Colette Campbell-Moscrop
Heather Euloth
Heidi Daehler
Jessica Joyce
Kara Eckler
Karine Guyon
Lauren Anders
LeKui
Lea Elise
Liza Sokolovskaya
Luis Fernando Suárez
Madeline Richards
Mary Hayes
Sophia Kayafas
Zachary Sitrin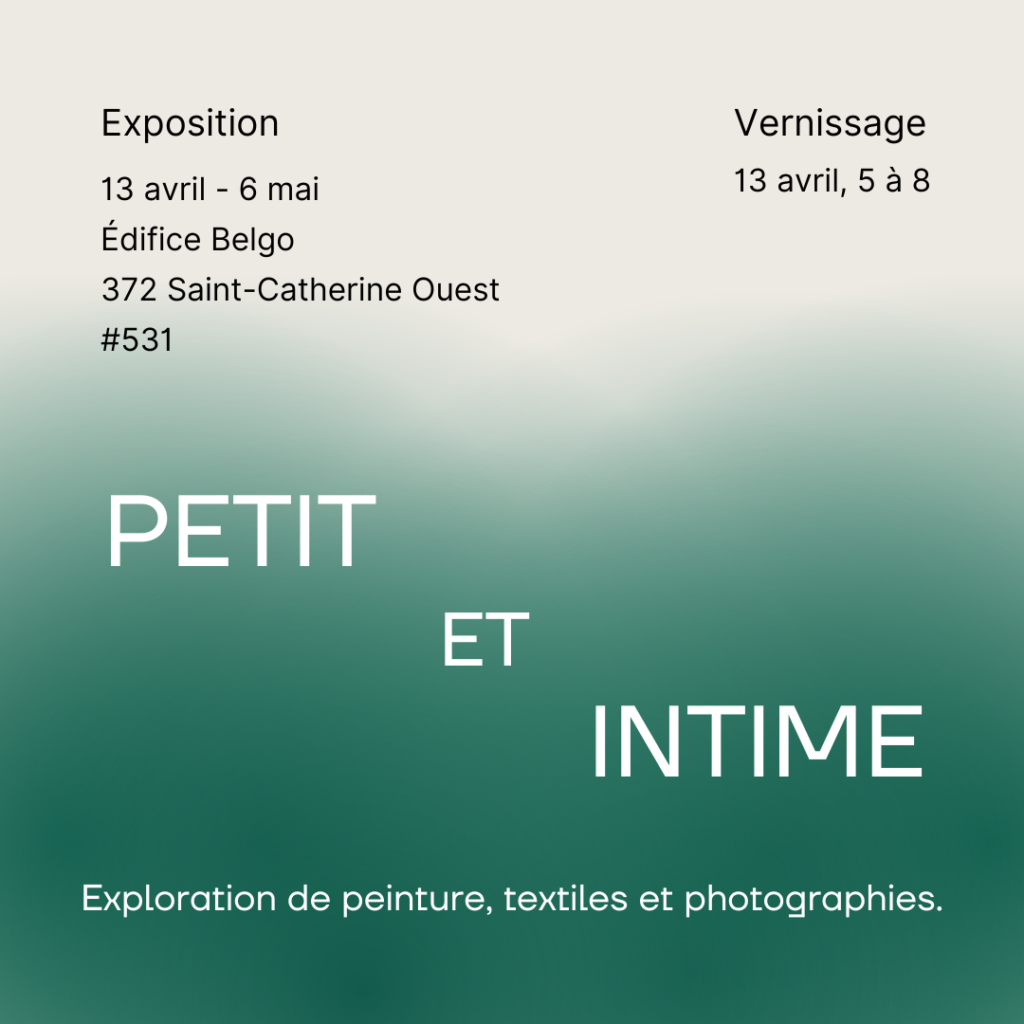 Small spaces and small works of art bring opportunity, intimacy, and are also inclusive. In Petit et intime: Exploration de peinture, textiles et photographies, a group of Montreal and New York City artists are joining forces to exhibit some of their smallest works in one of the smaller studios in the Belgo Building in Montreal, converted into a gallery from April 13 until May 6. Despite being in different countries and having different national languages, the cities of New York and Montreal have an odd affinity for each other, and both are cultural hubs with very lively art communities. The state of New York and the province of Quebec share a border, and historically many artists and artworks have travelled between the two cities.
Working within the limitations of space and distance, the artists chose to start small for this project, choosing works that are 12" x 12" and under. Small works, while seemingly unassuming, are inclusive for those with small apartments, and they are affordable for most people, and they can also be made in bedrooms, living rooms and kitchens that are converted into studios. Small works are intimate in that they draw you to step closer instead of stepping back to take them in.
Petit et intime is primarily a painting show, but it also includes drawings, photographs, and fibre works. Figurative painter Kara Eckler was born in upstate New York and received her BFA at the University of Albany, NY. She mainly paints people and narrative scenes, and for this show she turned her intimate studio into a gallery space. Liza Sokolovskaya grew up in Montreal and now lives in Brooklyn, she is a painter and mixed media artist who works primarily with the body and portraiture. Sokolovskaya is a MFA graduate of the New York Academy of Art, and the artists she brings from Brooklyn were her fellow students: visual artist and writer Lauren Anders, and painters Sophia Skayafas and Zachary Sitrin. Representing Montreal we have figurative painters Madeline Richards, Ben Williamson, Mary Hayes, Heidi Daehler, and Jessica Joyce, abstract painters Karine Guyon, Trevor Kiernander, and Luis-Fernando Suárez, photographer Lekui, and painter and fibre artist Lea Elise. This exhibition seeks to bring together artists from neighbouring lands to show off what they can do in this exhibition of petits moments in a little atelier turned gallery. Relationships and connections create possibilities, they create room to grow and to see and be seen. This show has a DIY spirit, as the curators are artists hosting a show for artists. The aim of this exhibition is to create opportunities for the participating artists as a chance for people to see works they may not have been exposed to otherwise.